Honey For Sale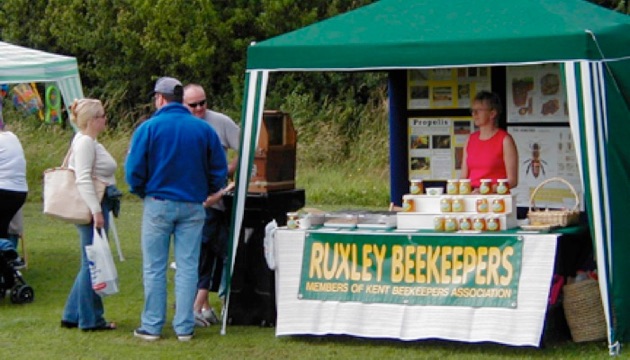 Members of the public can buy all year round the honey produced in Ruxley apiary, and also honey produced by the members of Ruxley Apiary.
In addition to a number of various shows, and some other outlets, our honey is sold by:
Honeydale Farm Shop and Tea Room 

217 Maidstone Road
Sidcup
Kent
DA14 5AW 
Kelsey Bros. The Farm Shop 

Woollett Hall Farm 
North Cray 
Sidcup
Kent
DA14 5ET
Polhill Farm Shop 

Polhill Garden Centre
Badgers Mount
Sevenoaks
TN14 7BD
Many members sell their honey through their local greengrocers and through their local butchers.
Honey Co-op
The Ruxley Honey Co-operative was set up in the 1990s to facilitate a regular supply of honey to the Honeydale Farm Shop, and to assist with selling honey produced by the Ruxley Apiary Co-op Members and honey produced in the Apiary.
Since the closure of the Honeydale Farm Shop, the Co-operative has been supplying it's honey to several other local outlets.
Membership of the Ruxley Honey Co-op is open only to members of the Sidcup KBKA. Applicants are required to sign the membership agreement and pay a small refundable joining fee. They are also responsible for the supply and preparation to the highest standard of honey produced by their own bees.